American Immanence Study Group
with Rev. Kevin and the author
7 sessions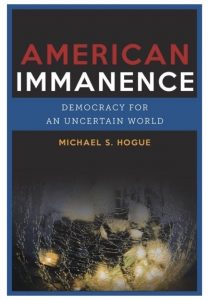 Over the course of 7 sessions we will explore, reflect on and interrogate American Immanence: Democracy for an Uncertain World by Michael Hogue, professor of theology at Meadville Lombard, Theological School. We will both seek to understand what Hogue is saying and consider the potential application of Hogue's insight in our lives and community. The author will join us online in one of our early sessions and in our final session.
 "American Immanence calls for replacing the dominant American political tradition, which has resulted in global, economic, and environmental injustices, with a new political theology committed to democracy as an emancipatory and equitable way of life. [Hogue] explores the potential of a dissenting immanental tradition in American religion based on philosophical traditions of naturalism, process thought, and pragmatism. He argues that the vulnerability of life in the Anthropocene calls us to build democratic communities of responsibility, resistance, and resilience."
 The book costs almost $30 in both paperback and electronic formats.  If cost is a limiting factor, please contact Rev. Kevin. There is a reference copy that will remain in the UUCM library, and a reading copy available in the library to share and that can be taken home overnight. Note: this is a text written for an academic audience. It is dense and rich and for most will require some effort. 
Tuesdays, 2:00-3:30 at UUCM 
Oct 30 – Intro and Ch. 1.  "American Exceptionalism and the Redeemer Symbolic"
Nov 6  – an online conversation with the author
Nov 20 – Ch. 2.  "The Anthropocene and Climate Wickedness"
Dec 4  – Ch. 3. "Thinking, Feeling, and Valuing Immanence: American Immanental Philosophies"
Dec 11  – Ch. 4. "Divining Immanence: American Immanental Theologies"
Date TBD – Ch. 5. "Toward a Theopolitics of Resilient Democracy"
Date TBD – What? and Now what? A conversation with the author.