You are invited to join us at our
22nd Annual
Family Campout at Scotts Flat Lake
August 18 – 20
Folks really have a wonderful time on this trip and I encourage all old and new families to come!
CAMPING >>  We have 7 sites reserved and generally 2 camping families share each site.  The approximate cost per camping family is $50 for the weekend (assuming two cars).  We check in around 3pm Friday and check out 1pm Sunday.  Generally we can fit everyone in the 7 sites. Up to 8 folks per site.  I see the new website states two cars per site but we have had up to three in the past.To get a camping spot, please confirm with me as soon as possible.  The church advanced us the money for the reservation and now is time to book your spot and pay your fees.   Please refer to Scott's Flat website for information on Rules and Fees.  There are extra fees for dogs, kayaks etc. http://orchardspringscampground.com/scotts-flat-lake-2/scotts-flat-lake-rates/.  All sites are RV suited and each one has different lengths. We have reserved the following sites 51, 52, 54, 55, 60, 61,and 62 in GATE 1. Below is a table that shows approximate # of tents and size of RV that fits per site.  DOGS: I do try to get a sense of who is open to sharing a site with our furry friends so let me know if you are planning to bring one.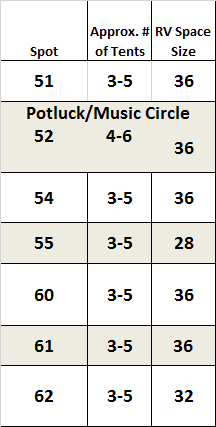 DAYTRIPPERS  >> If you want to come for the day, that is great! I encourage you to come Saturday and stay for the Potluck, Talent Show and Music.  If you come for the day, you will pay a $10 extra car fee at the gate to get in.
TALENT SHOW Saturday night>> Time to start planning your ACT and share your talents around the campfire.  All ages, musical, skits, singing, poetry…..we are a very supportive and friendly audience 🙂
MUSIC>>    Please bring your instruments and music for Saturday night!
What to expect:
Friday night: – folks start rolling in after 3pm.   We usually gather for some drinks, appetizers and conversation at 5:30 or 6.  Sometimes a group fire.  Last year we did ghost stories.
Saturday:   –  there is a hike down to the water around 10:30am, folks sometimes kayak, boat, swim, hang out, nap, relax etc.  At 5pm ish we start grills and start gathering for the potluck at 6pm.  We normally have a dozen or so Day Trippers come and join us on Saturday.  Talent show at 7ish and then music afterwards till 10pm.
Sunday: We gather for a worship service under the trees at 10:30.  Folks share readings, poems and reflect on the weekend together.  We cleanup and check out around 1pm.
RSVP for Camping:  Please email or call me as soon as possible to get a site.  Let me know if you have a particular site request (will do my best), if you have an RV, dog or other special request.  Once I have campers confirmed in each spot, I will notify you of the fees due.
Hope to see all you Happy Campers again this year!
Regards,
Beth Freedman
Camping Coordinator
530 575-9319