Read Handout 3A, below, Throop Church Case Study
then go to the Survey Part 3 to offer your responses.
Handout 3A: Throop UU Church Case Study
By Rev. Tera Little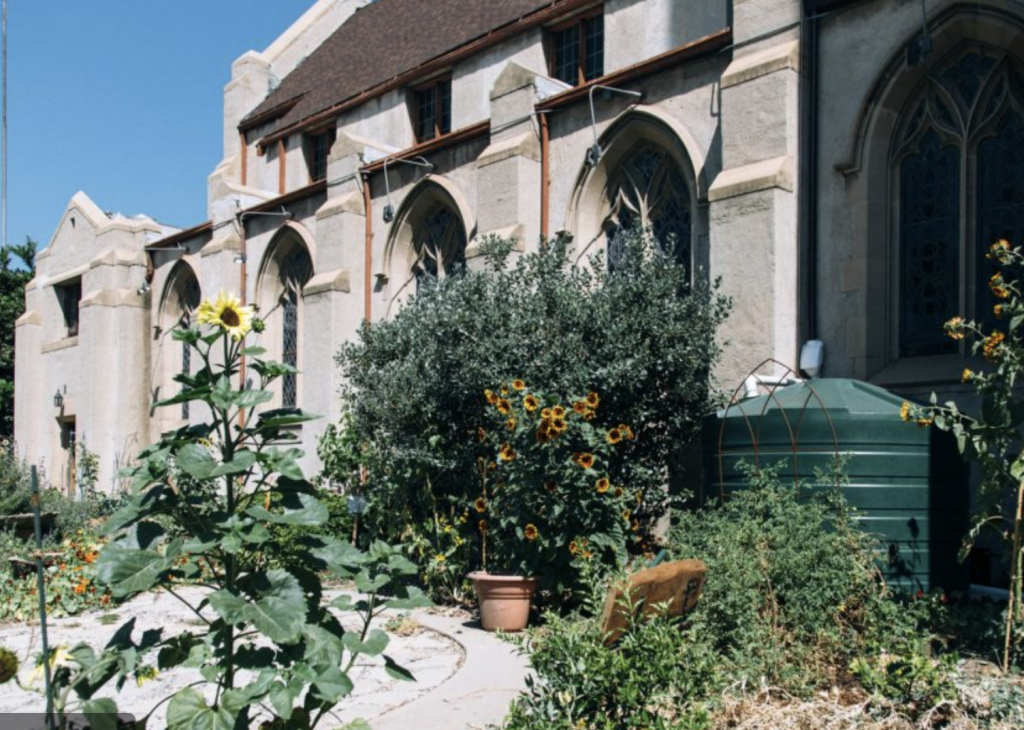 Throop Unitarian Universalist Church is an historic Universalist Church, founded in 1886. Their traditional church building sits on a busy street corner in downtown Pasadena, CA. Like many congregations of all denominations, we went through a period of decline for many years. The community hit a low point a few years ago. Struggling with rapidly declining membership and a beautiful building in need of much repair, with weeds quickly taking over the outside, the leaders considered closing the doors. Neighbors thought the church was abandoned.
During this time, one of the church members who was also active with a community group called "Transition Pasadena," encouraged the Board to try something different. Transition Pasadena – a group dedicated to ending dependence on oil and encouraging local resiliency – needed a place to install a Learning Garden, based on permaculture principles. They thought Throop Church – with its 8000 square feet of thirsty lawn – would be the perfect canvas. The Board took a leap of faith that day. They voted YES to starting this project. To tearing out all that grass, living with mud and dirt for months, and trusting the consensus-based, collaborative process of the Transition group.
Three years later – and that decision has paid off. What was once a quiet corner is now alive and bustling – a fragrant, verdant piece of Eden in the midst of the urban core. There is a fruit tree guild, raised vegetable beds, herb gardens, native plants, and a swale that helps with storm water percolation. Plans are in process to create a Rainwater Harvesting Learning Project.
The garden planted seeds of new life for this historic church. Two years ago they hired a part-time minister. With the guidance of a Methodist minister whose profession was new-start churches, she conducted one-on-one interviews with city leaders, like the mayor, city council person, director of department of health, and more. It was important for the city to understand that there was new leadership and new direction at the church, and the church was reclaiming their investment in the City of Pasadena.
She asked three questions of these leaders:
What are three areas of tension in Pasadena?
What are your three hopes or goals for Pasadena?
Who are three people I should talk with, and will you make the introduction?
These conversations sparked on-going relationships. The congregation offers free space for neighborhood meetings. The Mayor has spoken twice at large events sponsored by the church.
Throop is increasingly being seen as a go-to partner in the areas of sustainability and eco-spirituality. We are also part of an emerging clergy leadership group around the area of worker justice and living wage in Pasadena. Last year, Throop won a Green Award from the City of Pasadena, for our Learning Garden.
We strive to be a multi-generational congregation. Things we pay special attention to on Sunday morning:
Preaching a shorter sermon, about 12-13 minutes
Intentionally engaging younger people in worship leadership
Leading the congregation in body prayer, involving movement
Including five songs – diverse instruments, genres and styles of music
Having a family-friendly corner in the sanctuary where kids can move around.
We continually look for inspiration and guidance from the surrounding neighborhood. Our goal is for our ministries and programs to arise out of and respond to the needs of our neighbors. Our garden and eco-spirituality programs draw a wide range of people who are looking to meld their inner heart-work with their outward actions and activism.