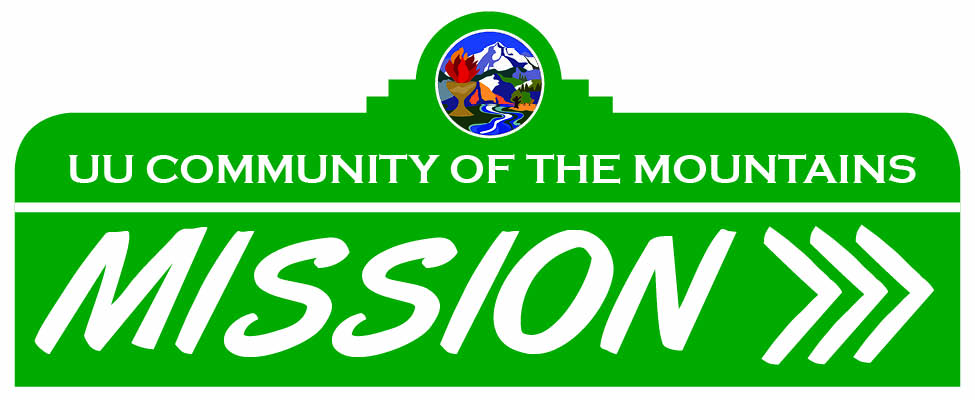 From Jim Perkins:
The Mission Renewal Refinement Team, based on feedback from the small group discussions about draft one, has completed the second draft of the mission statement.  Here it is:
 We welcome everyone into our vibrant community of love and acceptance.
Here we nurture and inspire each other to be our best selves.
Here we celebrate the wonders of life and explore its mysteries.
Together we live our UU values, working courageously to make our world more compassionate, sustainable and just.
In reflecting on this draft, please keep in mind the following:  The mission statement should answer three questions:  Who we are, the values we embrace, and how we take them out into the world.  A mission statement should be concise, hit the essential points for anyone who walks up to the door to read, and should be easily memorized.
There will be an opportunity to give feedback on this draft following second service this Sunday.  If you can't make that meeting, you can send feedback directly to me (jperki45@gmail.com) and I will relay it to the refinement team which will come up with a third and final draft to be voted on by the congregation in February.
 Jim Perkins for the Mission Renewal Team.
From Beth Freedman:
Dear Congregation,
The Mission Covenant Refining process is underway!  We would like to thank everyone for their commitment and input to this process. Special thanks to our Mission Refining Team consisting of Tom Wernigg, Lesley Champlin, Susan Merrill and Gail Johnson Vaughan.  They are meeting weekly to refine and bring our Mission Covenant to its first draft.
Here is what you can expect in terms of timing and process to finalize our Mission Covenant Statement.
Draft 1 Review
Oct 29th   Small Group Discussions during second service and after second service
Nov 2nd   Small Group Discussion in the evening with Pizza and Refreshments.
Draft 2 Review
Dec 10th All Congregation Town Talk forum after service
Final Draft
Mid January
Congregational vote on UUCM's Mission Covenant Statement
Feb 4, 2018
More detailed information on the above will be sent out prior to the events.  We do so hope you can join us in the draft review discussions.
Sincerely,
Your Mission Renewal Process Team
Beth Freedman
Jim Perkins
Rev Kevin Tarsa
René Wiley
Mission Renewal Process
The task of renewing our Mission was identified as a key priority at our October New Ministry Workshop in Oct 2016 and also  brought up in our Survey conducted during the Ministerial Search Process.  Our current mission statement was developed in 1995.
What is a Mission Statement?  A Mission Statement is a well-articulated , complelling, inspiring statement that names why a congregation exists, what its purpose is?
Please be part of this process.  Take time to reflect and consider what is our purpose here together?
Below are the links to our communications sent to date that explain more about Mission Renewal Progress to date.  If you have any questions, please reach out to any member on the team.
Sincerely,
The Mission Renewal Process Team

Rev. Kevin Writes about Mission
Please click the following titles to read Rev. Kevin's Mission-Covenant pieces in the eChalice and Mountain Chalice:
Mission-Covenant, Part 1
Mission-Covenant, Part 2: What Makes This a Religious Venture?
What is UUCM's Purpose?
Mission Renewal Process Team Updates
August 2017
From the August 2017 Mountain Chalice newsletter:
Hi there,
We hope that you are all getting excited to join us on Saturday, September 23rd for UUCM's all-day Mission Covenant Renewal Workshop.   We have engaged Linda Laskowski to help us design the process and facilitate our workshop.  Linda is a lay leader with the Unitarian Church of Berkeley and has extensive experience facilitating organizational development and quality process improvement teams for businesses and non-profits.   We are just thrilled to have her join us on this mission.  Pun intended!
But enough about what we are doing to prepare, you are wondering what you can do to prepare, right?  First keep reading our updates including the three-part Mission Covenant series written by Rev Kevin in the weekly eChalices.  See link here: http://www.uugrassvalley.org/mission-renewal-process/.  Part 3 asked the following questions:
• If each Unitarian Universalist congregation discerns its own separate mission (central purpose), is there a larger mission that all UU congregations share and that ought to be part of UUCM's mission?
• What is distinct from all other religious traditions about Unitarian Universalism/UUCM? What insight might that answer shed on our mission/purpose?
• And what purpose can UUCM claim to have in common with its Unitarian and Universalists heritages, and so have reason to claim its high points and its heroines and heroes, and to identify itself as Unitarian Universalist? As Robert Latham observes, "we might find a clue to our present purpose by asking what was their purpose."
We would love to hear your thoughts to these questions and I would like to share some of what has been sent to us so far.
• "I think what makes UU unique is that it is different paths.    Mainstream religions are too narrow for me."
• "The larger mission should include creating a purpose that calls to and engages more people to join Unitarian Universalism.  I dream of our religion growing around the world, not for numbers sake but because we will serve a vital need for people seeking.  I believe there are many more people who desire a progressive, diverse and socially justice minded religion like ours. How do we help them find us?"
• "UUCM should be defined by its own Mission Statement and by the actions it chooses to take from time to time. We currently accept the Unitarian Universalist seven principles but there is no guarantee that we continue to do so, particularly if they change. We also currently choose to be a member of the UUA but again there is no long-term guarantee. In the future, we may choose not to be a member, particularly if the UUA evolves in a direction not to our liking. UUCM could continue while rejecting the Unitarian Universalist principles and ceasing to be a member of the UUA.  Now this is both unlikely and undesirable but we must preserve the option. A strength of our denomination is the independence of each congregation, unlike the hierarchical organization of some other denominations."
• "In most Unitarian Universalist congregations, we hope to find a diversification of people that are like minded and open to other opinions."
• "The opportunity to draw on wisdom, insights, and experiences of many traditions, as well as our own as individuals, as a congregation, and as a congregation within UUism worldwide. Also for consideration please see the first principle project http://firstprincipleproject.blogspot.com/.  Expanding the principle, and our thinking as a congregation, to include all beings everywhere is relevant."
We would also like to share a worthwhile article called THE LIBERAL CHURCH FINDING ITS MISSION: IT'S NOT ABOUT YOU by Peter Boullata.  See this link:  https://peterboullata.com/2011/12/29/the-liberal-church-finding-its-mission-its-not-about-you/
The Mission Renewal Process team thanks everyone for their input and support.  Our connection to each other on this team and our enthusiasm for this work continues to grow!
Your Mission Renewal Process Team:
July 2017
From the July 2017 Mountain Chalice newsletter:
Adventures in Mission: The Wiley Family Creates a Mission Statement of their Own
There was excitement stirring in me this Winter and Spring, as I was hard at work alongside my RE Vision Team members drawing on our deepest hopes and highest ideals to create a mission statement for all ages to work and grow within. It was amazing to wade together through so many of our best ideas in order to culminate in a mission statement of how we intend to discover what we all seek, who we as Unitarian Universalists hope to become and how to transform our world. Now, add to that the honor and experience of working with the Mission Renewal Team, where we've been preparing to guide you all in the search for deeper meaning and explore our very reason for existence.  Yep, I'm pretty mission-psyched!
How could anyone return home from each meeting around this work not feeling spirited and inspired? One such night, I urgently proposed to my family that we create a mission statement all our own.  "It would be easy," I exclaimed. We would work out which things in life are the most important to us and bind ourselves together in the process!
Steve, Norah, and the cat, all sat up in alarm and took notice of my crazy idea.
I assured them that all we needed to do was to get to the heart of the matter, that all successful families were intentional about their goals and that a mission statement is key to staying on track in spite of the busy-ness and daily demands. "And," I promised, "there will be ice cream afterwards!"
So we called a few short family meetings and began by naming a long list of aspirations and what we wanted to be known for in our community, ranging from quite silly to downright philosophical. We found the fun!  The real magic was in the dessert and game that waited at the end.
It took another quick meeting to choose from the list our most valued ideals, and then boil these down further until we came to the final four:
Create                Love                Explore              Courage
We cheered! We did it! We felt the pride of accomplishment and then life went on exactly as normal.
Ask Norah now and she says it was just an exercise, nothing special.  She's only eight.  I, however, felt a sense of being anchored together by purpose and the fun of identifying who we are.
It's still fairly new, and we have a summer plan to paint these four words on our kitchen door as a reminder to stay present. We expect to continue to share weekly how we've lived out our mission in big and small ways. My hope is that being intentional will strengthen our family's heart and guide our way home.
Today was a first real test, as a sticky parenting moment arose.  I searched desperately, as parents do, for a compelling reason to make a case for good choices in life, and our simple four words jumped easily into mind. So I invoked the mission statement as part of an encouraging discipline talk, and soon after saw in Norah's eyes the clear recognition that every parent hopes for in these situations. In return, she saw in my tear-filled eyes how grateful I was to share a new language, a code that we both understood as authentically creating, loving fully and exploring how to be our best selves, courageously.
For us, cooking up a mission statement took a little convincing, some trust, fun exploration into meaning, and some ice cream. It was worth it.
Sample Mission Statement
Live Oak Unitarian Universalist Congregation is a liberal religious community welcoming all. Our generations join together to nurture spiritual growth and personal transformation, that we may be inspired to transform the world with love, hope, compassion and justice.
– Live Oak Unitarian Universalist Congregation, Goleta, CA
Look for more adventures in mission coming your way!
Your Mission Renewal Process Team:
June 2017
From the June 2017 Mountain Chalice newsletter:
Can you feel the excitement in the air?  The growing sense of anticipation?  The feeling that something great is coming soon?  Yes it's true – the mission renewal process is around the corner.  Your Mission Renewal Team is working diligently to develop a process to insure that everyone gets to contribute to the creation of our renewed mission statement.  We have highlights of our process and a timeline which we want to share with you today as we keep you informed of our progress every month.
Education – the process will start with educational opportunities over the course of the summer.  During this time we will raise such questions as "What do we mean by 'mission' in this context?"  "What is the difference between the mission of a religious community and the mission of other kinds of organizations?"  "What is meant by framing the mission as 'covenantal'?"  "What do we do with our mission statement so that it stays alive and meaningful?"  We will explore the history of UUCM and our original mission statement and reflect on what has changed since the original statement was developed in 1995.  We will also ask what is specifically Unitarian Universalist about our emerging mission statement.
The Process – We envision a highly participatory process where everyone who wants to can make input into the development of the mission statement.  On Saturday, September 23rd we will hold an all-day congregational workshop including breaking into small groups to draft multiple mission statements.
These draft statements will then go to a refining team which will review them, look for common themes, and draft a single statement reflecting those themes.  Around the middle of October we will start to hold cottage meetings, meet with affinity groups and look for other ways for smaller groups to give input on this draft statement.  The refining team will then take this feedback and create a single new draft.  In mid-November there will be another congregational meeting to offer feedback again.  Then the refining team will wordsmith a final draft.  This mission statement will be voted on at a formal congregational meeting most likely in January of 2018.  Since our current mission statement is written under Purpose in Article II of our bylaws, this will require a bylaws amendment.
We envision this as a creative and exciting process, and we anticipate that there will be lively discussion of issues surrounding our mission as a congregation.  When it is finished and our new mission statement is adopted, it will provide guidance and direction for the work of the congregation.
Stay tuned for further updates as we continue our planning process.
Your Mission Renewal Team:  Beth Freedman, Scottie Hart, Jim Perkins, Rev Kevin Tarsa, René Wiley
May 2017
From the May 2017 Mountain Chalice newsletter:
Dear Congregation,
Spring…..transformation…….mission renewal….are you ready?  Your Mission Renewal Process Team is!  We are committed to designing a process that will allow the congregation to reflect on who we are, discern why we exist and create a renewed mission statement together.
What is a Mission Statement?  A mission statement is a well-articulated, compelling, inspiring statement that names why a congregation exists, what its purpose is.   The mission statement will call forth our commitment.  It will guide our decision making and ask us to be the best that we can be.  It will not be a list of everything we want to do. Rather, this should be a powerful statement that motivates members and informs our community, is short enough to be memorized and inspiring enough to be advertised in a wide variety ways as a reminder of why the congregation exists.
Our current mission statement below was created in 1995:
The purpose of our Community is to foster liberal religious living through worship, study, service, and fellowship. We seek the enjoyment of religion founded upon devotion to individual freedom of belief. Relying upon reason as our guide, and upon freedom as our method, we seek to grow in understanding of ourselves and of our world, to promote and serve the universal human family.
Why should UUCM Renew our Mission Statement?
We shared earlier that renewing our mission was identified as a key priority at our Ministry Workshop in October and was also brought up in the survey we conducted during the ministerial search process.  The Team has given this question a good deal of thought and here are the some of the ways we believe that UUCM will benefit from going through a mission renewal process:
·  our congregation and our world have changed quite a bit since 1995
·  our members will go deep and wide in a collaborative process
·  understanding our history and the larger UUA framework
·  feed and support long term planning
·  relieve boredom (just kidding)
·  allow old and new members to work together
·  grow as members and as a community
·  serve to inform leadership and strategic planning
·  give us new energy
·  strengthen our collective identity and clarify future decision making
We are in the "educational phase" of our process.  We are building our understanding and sharing it with you.  We will continue to update you on our progress and look forward to sharing a timeline soon.
So please feel the freshness in the air, the change in our step and come with us on this process of rediscovering who we are and transforming our world together!
Sincerely,
Your Mission Renewal Process Team
April 2017
From the April 2017 Mountain Chalice newsletter:
Dear Congregation,
We are excited to give you an update on the progress of our Mission Renewal Process.   We announced the kick off of the process back in January. Our first step of selecting the Mission Renewal Process Team is now complete.  Our team is comprised of a lovely balance of old and new members – Scottie Hart, René Wiley, Jim Perkins, Beth Freedman and our Minister Kevin Tarsa.
Our team has met three times including having a team retreat where we got to know each other better and learned how to work together.  There is already good feeling of connection and purpose.   The team's job will be to oversee and make happen every aspect of planning needed to create a mission statement from beginning to end. Please take a moment to thank the team for signing up for this very important work.
This task of renewing our Mission was identified as a key priority at our October New Ministry Workshop and also brought up in our Survey conducted during the Ministerial Search process. Mission statements are encouraged to be renewed at regular intervals and the timing is right for UUCM.
We have much work ahead of us and look forward to being in contact with you very soon.
Sincerely,
Your Mission Renewal Process Team
January 2017
January 11, 2017
Dear Congregation,
It is with great excitement that I write this email to announce the kick off of our process to renew UUCM's Mission Statement.   This task was identified as a key priority at our Congregational Start Up Workshop in October.
To borrow from Robert Latham's Moving on from Church Folly Lane, the two powerful forces that contribute to a Congregation's success are its mission and commitment of its resources.   The ultimate social and transformative power of a congregation is commensurate with its measure of focus on its religious mission.  Ministry is everything a congregation does to fulfill its mission.  The greater the ownership of the congregation's mission the more profound their commitment to creating a powerful ministry. A Congregation's mission will guide important governance and program decision making.
We will be engaging the congregation in what we hope is a powerful and inspiring process that revitalizes our identify and commitment.  It will be informed by where we have been, where we are now and where we want to go!
Highlights of the process include:
·  selection of a Mission Process Team whose job it will be to oversee and make happen every aspect of planning needed to create a mission statement from beginning to end.
·  lots of education and an exploration of our history
·  a Congregational workshop to draft multiple consensus mission statements
·  a Refining Team that will help craft and write a single statement for subsequent review and revision
·  small group meetings to further refine our statement
·  a congregational meeting for further review and feedback of our statement
·  a finalized version will be voted on at our Annual Congregational Meeting in May 2017
The first step is the Board's selection of the Mission Process Team.  The team members should be a balanced representation of the congregation in terms of areas of interest, longevity of membership, leadership experience and knowledge of our members.  Members with the following attributes would be well suited:
·  open to new ideas
·  work well with others
·  are well-respected by the congregation's membership
·  can follow through on commitments
·  know how to put individual desires aside and look at what is best for the whole
·  work well in a consensus situation
·  are capable of both self assertion and compromise
Please let myself, David Macleod, or Rev Kevin know if you are interested, can recommend anyone or would like more information.   I will be the board liaison for the mission renewal process and look forward to working with all of you on this very important task!
Regards,
Beth Freedman, Board Member At Large
"We are Unitarian Universalists with minds that think, hearts that love, and hands that are ready to serve".