Welcome! If you are new to UUCM, you may be wondering what to expect in a Sunday service.
Sunday services are held at 10:30 a.m. these days, on-line via Zoom and on-site at UUCM.
The Zoom link is sent out to Members and Friends and to those who request to be on the Sunday list (contact uucmOnline@uugrassvalley.org). The link is also available with each of the service descriptions on UUCM's homepage.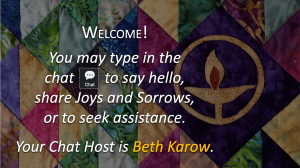 For many new folks, the on-line option makes checking out a service a more comfortable experience. You can test the waters as quietly as you wish.
You can get a taste in advance of the kinds of messages offered on Sundays by checking out past services on UUCM's YouTube Channel.
Starting at 10:00 a.m. on Sundays, you can see a series of announcements and quotes, accompanied by music. People gradually sign in, making sure their connection is working, with a "Welcome!" and support from the morning's Chat Host.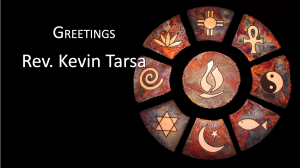 At 10:30 Rev. Kevin or the worship leader says hello, and an opening song leads often leads us into our time together. We light a chalice (a symbol of our tradition), acknowledge the indigenous people who lived on this land long before us, the Nisenan, and begin to focus on the particular theme or message of the day.
Although there is a great deal of room for variety and experimentation, most services follow a fairly familiar pattern, with the singing of two or three songs, readings from many different sources, some time for spoken or silent meditation or prayer, "wisdom for all ages," a chance to acknowledge our current joys or sorrows by typing them into the chat (on-line) or placing a stone in a bowl of water (on-site), and a message or sermon from the minister, members, or guests.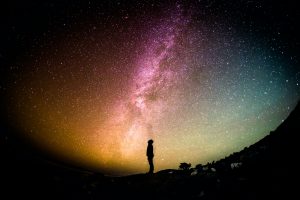 Our goal is to explore and examine life through many different lenses over time, calling forth our compassion, courage, love, and commitment to justice.
We look forward to your presence one of these Sunday mornings, whether in a Zoom room, or in our Church Street home. Dress is casual, either way!