Lindsay Dunckel, Worship Associate
Come early for refreshments in the sanctuary, and share in a video streaming of the largest annual gathering of Unitarian Universalists in worship at the 2022 Unitarian Universalist Association General Assembly (GA) in Portland, Oregon. Watch for a special hello from Rev. Kevin, René Wiley, and others from Portland. (P.S. Some of the refreshments may be inspired by Voodoo Doughnut, the Portland icon which creates a wild array of rather outrageous doughnuts.)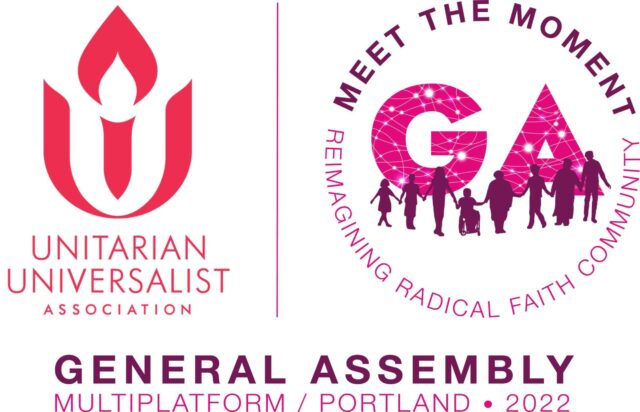 The last few years have not been easy, including in our local congregations. Whole swaths of members have simply stopped coming; COVID is confusing, and polarizing; many ministers have joined the great resignation; and Pew studies and friends alike have pronounced the end of the local church.
In this moment, when so many of us might be wondering if we should just give up, and relent, now's the time instead to double down on our commitment to the local church – this unique community that saves us and also breaks our hearts – often much more of the latter than we'd like to admit. In the midst of our culture of death, the church is a place of life. Or it is, as long as we are willing to bring our own lives to it. Join us for a morning of celebration, witness, and future-visioning for the already and not yet power of the local Unitarian Universalist church.
Always a rich and inspiring service, this year's Sunday worship is led by the amazing Rev. Gretchen Haley, with Rev. Shari Halliday-Quan, Rev. Sean Neil-Barron, Lea Morris, Adam Podd, Joseph and Aimee Santos-Lyons, and Allison King with the GA Choir.
PLEASE PLEASE NOTE: We'll adjust our virus protocols as needed. Right now, there are no limits on on-site attendance and masks are optional. Please watch for ongoing updates, and thank you for your ongoing flexibility! If you are feeling unwell or have had a known COVID exposure, please attend on-line, rather than in person.
In Person
246 South Church St, Grass Valley, CA
Zoom
https://zoom.us/j/746107217?pwd=a0VRT2JwckJZVjUrV2hYOHh0MHlRZz09
Meeting ID: 746 107 217
Passcode: 688010 (already embedded in the link above)
Join by phone
1 669 900 6833
1 408 638 0968
Meeting ID: 746 107 217 #
Passcode: 688010