Rev. Kevin reminds us that the most significant change when a person becomes a member is the change in how that person feels about the congregation. The community is no longer "them," but "us," no longer "theirs," but "ours." It is a powerful and wonderful internal shift that calls us to deeper connection and service.
---
There is no requirement to become a member of UUCM, in fact many attend and participate without membership, others financially pledge each year without joining (we call these folks 'Friends'), but when determining that this is a religious community with which you want to be identified and which you want to support, it may be the next step. All religious backgrounds, sexual orientations, economic status, and race are invited to be a part of the community.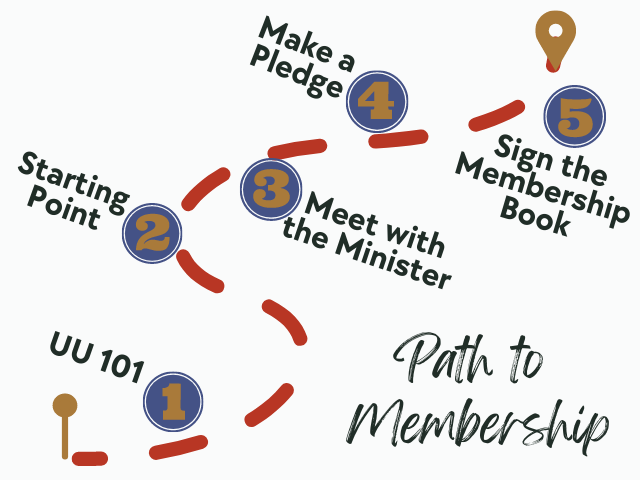 Interested in learning more about what it means to become a member of UUCM? When you start to wonder about membership, that is where the Path to Membership begins. The first step […]
For more information, please contact Membership@uugrassvalley.org.
---
UUCM Mission
With courageous love and a sense of wonder,
we cultivate our spiritual, emotional, and intellectual strength
to create a world more compassionate, sustainable, and just.
---
Shared Ministry
In our tradition and in our congregation, members hold ultimate decision-making authority through their ability to define bylaws, elect Board members, call or dismiss a Minister, and articulate the mission of the Community. Through the bylaws, the members delegate day-to-day decision-making responsibility and authority to the Board (Governance) and, by the Board's delegation, the Minister (Ministry).
Read about UUCM's Mission Focused Governing Structure for the full scoop.
---
Governance and Ministry
The Board and the Minister
At UUCM:
-the Board holds responsibility for governance
-the Minister holds responsibility for ministry
The Board of Trustees governs primarily by discerning the Mission, planning for the future, and providing oversight of compliance with the Articles of Incorporation, UUCM bylaws, UUCM policies, and all legal requirements. The Board monitors and safeguards human and material resources of the Community and governs through written policies. The Board oversees and creates committees to assist it in its work.
The Board delegates its authority to manage the day-to-day work and resources of Ministry Programs to the Minister as Head of Staff, except as expressly limited by UUCM Bylaws and current policies. In collaboration with the Ministry Council, made up of representatives from each of the Ministry Teams, the Minister manages the work of UUCM Ministry Teams to carry out the ministry programs of the Community in service of the Mission. The Minister is accountable to the Board for the performance of the ministry teams and for fulfilling the Annual Ministry Goals.