Music is a fundamental part of UUCM life, helping us celebrate the mystery and wonder of existence and renewing our spirit. Our services have a varied program of traditional and contemporary music; you may hear a classical piano solo, a choral or vocal ensemble piece, meditative chanting, folk artists or a bluegrass band, as well as occasional guest musicians.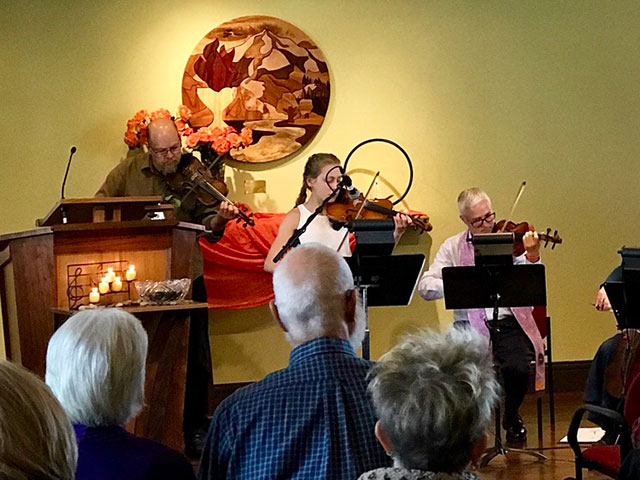 Our UUCM musicians are singers, songwriters and instrumentalists, including Tom Wernigg, songwriter who plays guitar, fiddle and mandolin; husband-wife duo of Taylor Carey and Kathryn Young, singing folk, country, bluegrass and ballads; Kate Canan, who not only plays flute and recorder, but also composes and sings wonderful, timely songs; teen fiddler Delaney and teen pianist, Olivia; and Randy McKean, saxophonist, clarinetist and composer.
From September through June, the UUCM Choir rehearses most weeks and sings in Sunday services monthly.
UUCM's well-loved Director of Music, Jordan Thomas-Rose, is moving on to other places and life paths come July 2022, and UUCM is about to search for a new Director of Music/Accompanist and a Choir Director. For more information email (music@uugrassvalley.org).