Watch here for updates soon on UUCM's Challenging White Privilege Task Force.
The forming Task Force has grown from two years of in-depth study of Robin DiAngelo's work, including her books, What Does it Mean to be White? and White Fragility. As it drafts its plans, the Challenging White Privilege study group, which meets every two weeks, is currently learning from Scene on Radio's excellent podcast series, "Seeing White" by host and producer John Biewen.
For more information about the new Task Force and the study group, contact admin@uugrassvalley.org
From UUCM's recent past: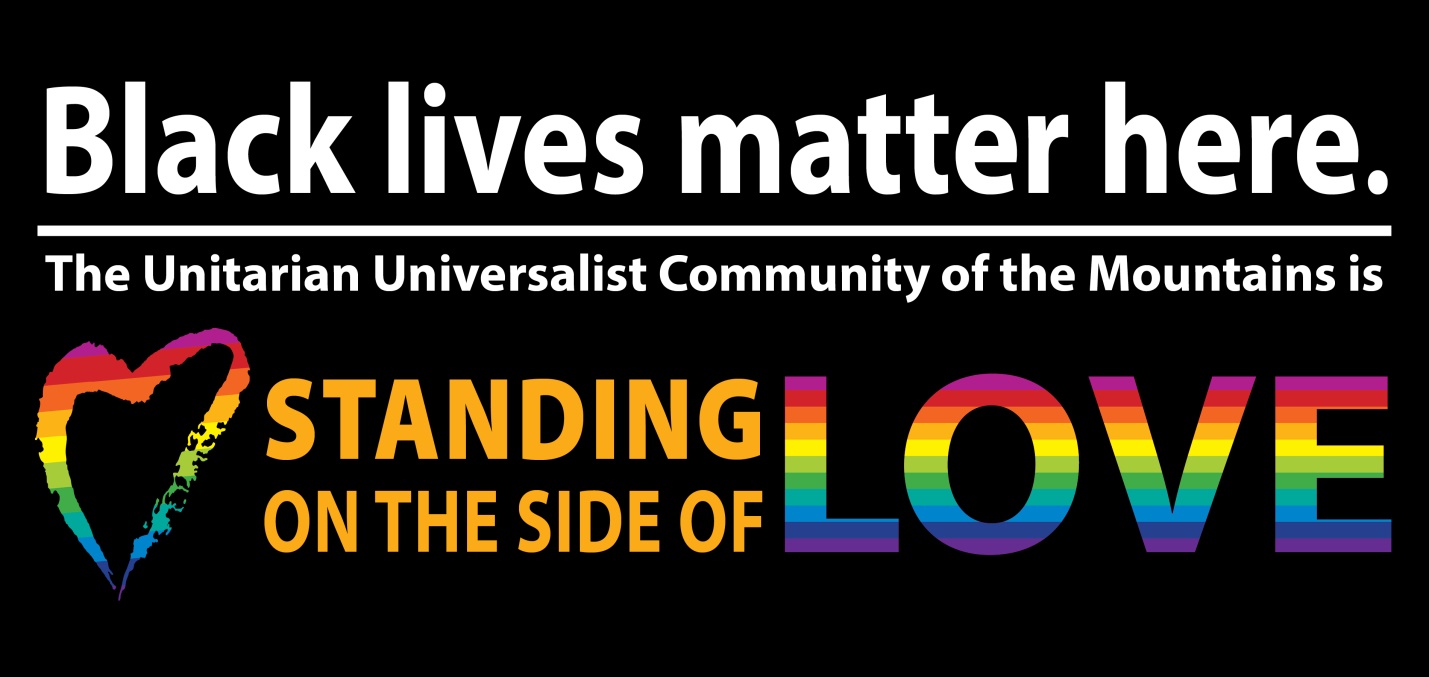 Unitarian Universalists are called to strive for "justice, equity and compassion in human relations". Therefore to dismantle racism in the world and ourselves, we are called to work to end the moral outrages of racial profiling, brutality, voting restrictions, and mass imprisonment of African Americans and other people of color in the United States. We are called to examine our own participation in the systems that continue to sustain white supremacy.
The Unitarian Universalist Association, of which UUCM is a member, passed a Black Lives Matter resolution adopted at the 2015 General Assembly (http://www.uua.org/statements/support-black-lives-matter-movement). In this resolution we averred that:
 "…the Black Lives Matter movement has gained powerful traction in conjunction with recent tragic events involving, in particular, police brutality and institutionalized racism that target the black community…." Further: "… we must continue to support the Black Lives Matter movement and Black-led racial justice organizations.."
UU congregations have shown their support for the Black Lives Matter movement with banners, vigils, and other acts of solidarity. Like UUCM, many have faced resistance in the form of complaints, protests, and vandalism. This backlash can only serve to strengthen our dedication to global justice, equity and dignity. It leads us to join hands across lines of race, class, age, and geography to build together communities of  love and justice. We shall work for an end to the discrimination faced by black people and other people of color, so that every person is treated equally under the law and so that each person's inherent worth and dignity is affirmed
To these ends, the Racial Justice Working Group at UUCM offers opportunities to learn, to grow and to act – opportunities to live our social justice values.
Reverend Tarsa's Editorials in The Union:
Reverend Tarsa's Remarks at a Post-Election Rally For Love:
Post-election Rally for Love Speech
Books in the UUCM Library
Between the World and Me by TA-Nehisi Coates
Just Mercy by Bryan Stevenson
The Third Reconstruction Moral Mondays, fusion Politics, and the Rise of the New Justice Movement by William Barber
Considering Hate Violence, Goodness, and Justice in American Politics by Kay Whitlock and Michael Bronski
Ferguson and Faith Sparking Leadership and Awakening Community by Leah Gunning Francis
Black Prophetic Fire by Cornell West
Darkening the Doorways Black Trailblazers and Missed Opportunities in Unitarian Universalism by Mark D. Morrisson-Reed
Sacred Ground Pluralism, Prejudice, and the Promise of America by Eboo Patel
Links Related To Our Banner And Understanding Racial Justice
UU World Magazine:
"Black Lives Matter banner 'brings out conversation'" – Summer 2015: http://www.uuworld.org/articles/blm-banner-brings-out-conversation
"Black Lives Matter" – Fall 2015: http://www.uuworld.org/articles/black-lives-matter
"Five Ways Unitarian Universalists Can Support Black Lives Matter" – Winter 2015: http://www.uuworld.org/articles/5-ways-support-black-lives-matter
"What Churches learn when they proclaim Black Lives Matter" – Spring 2016: http://www.uuworld.org/articles/black-lives-matter-pushback
Unitarian Universalist Association of Congregations:
Black Lives Matter 2015 resolution adopted at the 2015 General Assembly: http://www.uua.org/statements/support-black-lives-matter-movement
Black Lives Matter and building a movement for racial justice – resources: http://www.uua.org/multiculturalism/black-lives-matter
UUA Article "Black Lives Matter": http://www.uua.org/worship/collections/black-lives-matter
On Being Asked to Change "Black Lives Matter" to "All Lives Matter": http://www.uua.org/worship/words/reading/change-black-to-all
What to do if your Black Lives Banner is Vandalized: https://www.standingonthesideoflove.org/the-power-of-the-black-lives-matter-banner
Other Resources
Sacramento Black Lives Matter Group, "Incite Insight": http://www.inciteaction.com/mission, Phone 916-581-0061
Black Lives Matter: http://blacklivesmatter.com/who-we-are/
Southern Poverty Law Center: https://www.splcenter.org/what-we-do
Black History Resources for Nevada County, California, and Nation:
https://www.nevadacountyhistory.org/black-history-of-nevada-county.html
http://www.cde.ca.gov/ci/hs/im/didyouknow1.asp
https://www.nps.gov/parkhistory/online_books/5views/5views2.htm
http://bancroft.berkeley.edu/reference/africanamerican/timelines.html
http://www.caamuseum.org/index.htm
https://zinnedproject.org/about/