Join the "Get Out the Vote – Postcard Club"
The UUCM Bending the Arc Task Force invites you to be a member of our "Get Out the Vote – Postcard Club."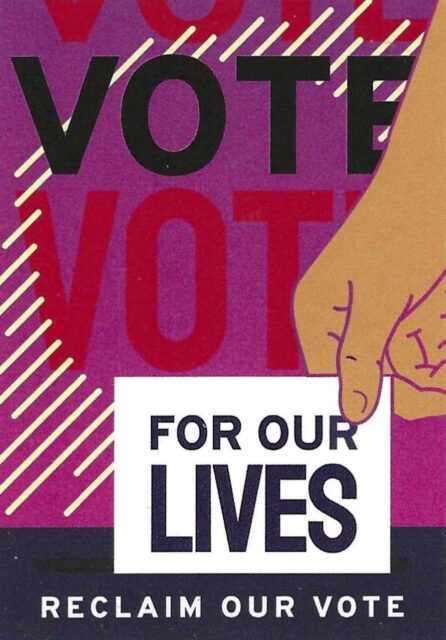 We know how important it is to get registered Black infrequent voters to vote in the General Election – with an emphasis on early voting. Each month from June through mid-October, those interested will be provided with a packet of 20 postcards, stamps and addresses. Those who are able, cover the $10 cost per packet. Those who want to support the effort but not write postcards can be "funding members" and support costs for others for whom cost is an issue.
Anyone can join the club – UUCM community, your family, friends, or anyone who wants to help counter voter suppression and the assaults on our democracy.
Our current target is Virginia. The last election changed the balance of decision makers in favor of voting restrictions. This election matters a lot in correcting that.
Postcard Packets
Pick up your packets on Sunday during service hours or M-F from 8:30-noon. If you need help getting yours, contact Gail Johnson Vaughan at gjohnsonvaughan@uugrassvalley.org.
Only want to do a few postcards? Join our pre & post service postcard parties in the UUCM library.
Postcard writing tips:
1. Don't wait to start.
2. Even putting in 5 minutes a day will get you done soon.
3. If you are using colors for your postcards try this trick. Do the whole pile of cards one color at a time. Seems like it goes much faster.
Getting Out the Vote – Texting
Writing postcards not your thing but still want to help? Structured texting campaign lets you text 500-1000 pre-written texts per hour. Go to: centerforcommonground.org/texting
---
For more information or to join the club, contact Gail Johnson Vaughan at gjohnsonvaughan@uugrassvalley.org.