A Justice Team Task Force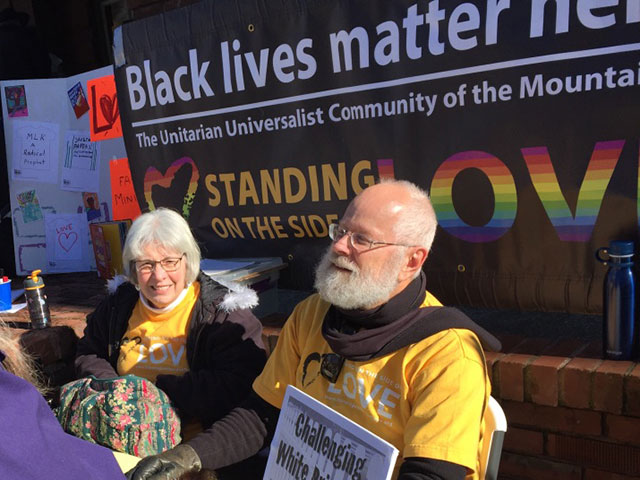 The Bending the Arc Toward Racial Justice Task Force works to reduce the effects of white privilege and systemic racism while increasing justice, equity, and compassion, helping UUCM and its members to live their justice values.
"I do not pretend to understand the moral universe: the arc is a long one, [and] my eye reaches but a little ways. I cannot calculate the curve and complete the figure by the experience of sight; … But from what I see I am sure it bends towards justice."
~ Rev. Theodore Parker (1810-1860), Unitarian Minister
Task Force Initiatives
The Bending the Arc Toward Racial Justice Task Force has five Initiatives, five major goals we hope to achieve during the year (January-December 2022).
Initiative # 1: Show up in role of servants for BIPOC events (planned and pop-up events)
Initiative # 2: Adopt the 8th Principle
Initiative #3: Take action against voter suppression
Initiative #4: Encourage targeted people to vote 
-> Join the Get Out the Vote Postcard Club! <-
Initiative #5: Get involved in local elections
Be on the lookout for Task Force invitations to learn, grow, connect, witness, and to be of service.
To learn how this Bending the Arc Task Force is organized, about its various roles, definitions, and expectations, read more HERE.
For additional information about the Bending the Arc Toward Racial Justice Task Force, contact Justice@uugrassvalley.org
Background and Resources
Black Lives Mattering and De-centering Whiteness
The Unitarian Universalist Association and Unitarian Universalists across the nation made a commitment several years ago to center the voices of people of color and to de-center whiteness within our institutions. It is long-term, deep, work, and work to which we, too, are committed.
If you are looking for a place to start or to continue your learning, watch for offerings from UUCM's Bending the Arc Toward Racial Justice Task Force, and draw on some of these resources: