President: Karyn Packard

President: Karyn Packard
Karyn Packard and her husband Bob have been members for 3 years. Karyn is ordained clergy, retired. She was Director of Pastoral Care and CPE supervisor at Long Beach Memorial Medical Center and Miller Children's Hospital for almost 20 years. Previously she worked in advertising and PR and was an opera singer.
Since joining UUCM, she has participated in leading various worship experiences. Karyn is the  facilitator for a Soul Matters Circle.  During the last couple of years, she has led several workshops at UCCM, using the MBTI/Kiersey Temperament Indicator, with the goal of both self-awareness and team development. Her husband Bob is the Chair of the Finance Committee.  More recently, she has worked with our congregation to complete their Advanced Directives.
Rev. Karyn is Secretary of the Board of Directors for Hospice of the Foothills and serves as their Board Development Chair.  Bob and Karyn live in Lake Wildwood and support political and social issues in the community.
---
Vice President: Jim Perkins

I am relatively new to UUism. I grew up in the Methodist Church but found it (and Christianity) unfulfilling. I have found in UUCM a strong sense of community and spirituality that inspires me and informs my life. I especially appreciate its emphasis on social justice, particularly its concern with confronting white racism.
I served on the Mission Renewal Process team and found working with the congregation in that capacity to be very rewarding. I loved seeing the energy that church members put into that process.
I sought this position on the Board to give back to the community and to utilize leadership skills I possess to support the work of the congregation, and especially to help the transition to our new governance plan. I have a doctorate degree and many years of experience in public health education, which entails extensive experience in group process, program planning and implementation, and adult education. I was also for a brief period of my life an ordained United Methodist minister so I have an appreciation for how church polity works.
I am excited about this opportunity to serve the community and appreciate your support.
---
Treasurer: Joel Houtman

My education was in Physics, but became a registered Civil Engineer. I led a small Engineering Department of 15 people for about 20 years in Southern California. My passion has been the philosophy of Physics and the hobby of wood working. I enjoy making furniture particularly for UUCM.
I joined UUCM about 12 years ago. I had bad experiences with churches in my youth, so I was reluctant to attend. I quickly got drawn in and became very active in UUCM. I enjoy the sense of community while UUism allows me to remain a committed atheist.
I have been on the Building and Grounds Committee, Arts & Esthetics, Social Justice, Men's Group, Humanism Discussion Group. About 7 years ago I joined the Finance Committee. I eventually became Treasurer for two years (which meant I was on the Board of Trustees).
Recently I revived the Endowment Committee and became it's chair. I have just joined the Board because I became aware that there was a pressing need for a Treasurer. It is a demanding position but I feel I can make a difference.
---
Secretary: Sandi Lauher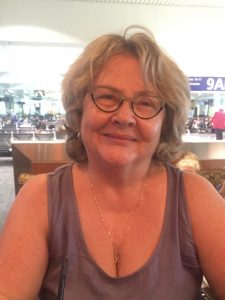 I was born and raised in San Francisco, when Coit Tower was a prominent building of its skyline. Almost 40 years later I came to Grass Valley and remained after falling in love with the Sierra Nevada foothills. I raised a family here and now am married to the most wonderful man. We have a beautiful life together, enjoying travel, our crafts, our home and each other.
---
Member at Large: Janet Dunstan
(content pending)
---
Member at Large: Maryann Currington

Ken and I raised our three children in the lovely, historical town of Oyster Bay, New York. I was a Special Ed Teacher specializing in learning disabilities. It was a deeply fulfilling career. I was so fortunate to earn a wage for something
I loved doing. But, on a vacation to see where my daughter decided to settle, we saw Lake Tahoe and packed our bags. We left family, friends and a community we loved for the irrestible beauty of Tahoe. After 16 years, we decided to retire our skis, put away the snow shovels and move closer to our newest granddaughter. Our new community has much to offer but, for me, the proximity to a Unitarian Church was particularly special. I had been a visitor to several UU churches on both coasts but, never lived close enough to consider joining. After visiting UUCM for a year, I felt confident in becoming a member.
Although, the Sunday Services left me filled with the spirit of our wonderful community, my true connection with the Church began with my involvement with the Caring Committee. The name of this committee says it all. It is, indeed, a group embodying compassion, love and service. I hope I will always be a member of the Caring Committee. Last winter, I decided to step out of my comfort zone and became a member of the Stewardship Committee. Now, I was no longer a guest of our Church, but a working member. I learned that saying yes to a necessary – but not alway easy task – had many unexpected rewards.
I look forward to serving my UU community in as many capacities as I am capable, and am honored to be asked to service on our Board of Trustees.
---
Member at Large: Dennis Weiher
Dennis Weiher has been a UU since the early 60s, with membership in more than a dozen churches in Kentucky, Oregon and California. His significant leadership experience has been in Southern California with roles on the board as Vice President, President, and chair of Facilities, Membership, Leadership Training and Finance. He was instrumental in growing our Thousand Oaks church over a 20 year period from under 30 members to over 210. As well he led the church in purchasing its permanent building and changing the governance model from pastoral to program. Finally Dennis spent 2 years on the Pacific Southwest District board and four more running district Leadership Training Schools.