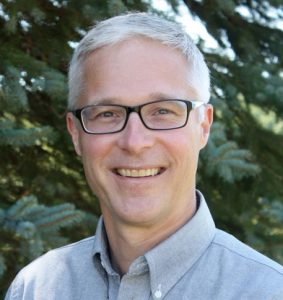 The UU Community of the Mountains welcomed Reverend Kevin Tarsa in August 2016 as its second settled minister.
Rev. Kevin arrived in Grass Valley and parish ministry after a lifelong vocation in church music and 26 years of music ministry in Unitarian Universalist congregations. He is a graduate of Meadville Lombard Theological School and a recipient of the school's Faculty Prize for Religious Leadership. Prior to his call to ministry here, Rev. Kevin served as an Interim Minister in Beaufort, South Carolina; an Interim Minister of Music in Lansing, Michigan; an Intern Minister in Wayland, Massachusetts; and a longtime Minister of Music in Traverse City, Michigan.
Reverend Kevin identifies as a religious naturalist, explaining that he is a non-theist who believes that we are thoroughly human beings in an awe-inspiring and entirely natural universe, and that we are called by "life's longing for itself" to live in ways that strengthen simultaneously both our individual and our collective well-being. "Religion helps us to navigate the intersection of 'I' and 'we' to the benefit of all," he says, calling us ever to our most whole and integrated selves. "Love is the symbol I use for the work at hand. We are called continually to figure out together what love asks of us now, in our current place and time."
Rev. Kevin is a gay man, the second oldest of eight children from a devoutly Catholic and close-knit Michigan family. He is fed and energized by creative and artistic endeavors of many sorts. He finds special joy in meaningful interactions, group synergy, shared music making, and making and sending thoughtful cards to people. He is grounded by gardening, cooking, hiking, biking, swimming, and snowshoeing, and his eyes can never take in enough of the electric blue sky at mid-dusk, the deep blues of Lake Michigan, or the brilliant greens of a spring woodland…and more and more, the dynamic edges and rhythms of the Yuba River.
To reach Rev. Kevin by phone: 530-274-1661
To reach Rev. Kevin by email: minister@uugrassvalley.org