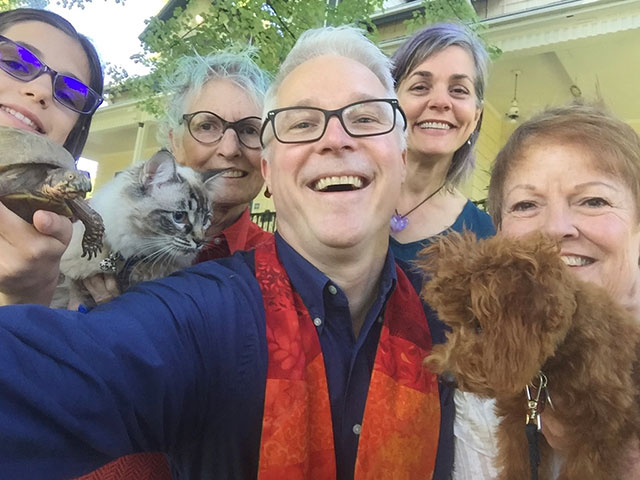 There are many opportunities to volunteer at the UU Community of the Mountains, especially as we find our way into this new era after a couple years of sequestered living. Offering service is an important path for growth, even as giving our time, energy and skills also builds connections and community.
If you have a particular skill or area of interest, you'd like us to know about, please complete our Volunteer Form.
To submit a new volunteer opportunity to share please complete the form here.
---
Current Volunteer Opportunities
Below is a list of current specific opportunities. Please click on the Team Title to learn more.
Team
Description
Sunday Greeter
We are seeking both on-site and on-line welcomers to greet people as they arrive, and to help everyone feel as at home as possible throughout the service.

Hospitality Team
Hospitality Team members help organize and serve refreshments after Sunday services, including setup, hosting, and cleanup. The goal is to provide a warm, relaxed, cheerful (and yummy!) atmosphere in which newcomers and members can connect and get to know one another.

Family Ministry
Family Ministry has many wonderful opportunities to help us make an awesome program for our children and families. Volunteer positions include:
– Assisting in the classroom on a Sunday Morning
– Assist with Events (coordination or setup)
– Donate snacks or needed supplies.

Get Out-the Vote Postcard Club
Join us in sending out postcards targeted to Black voters who haven't voted in recent elections – many due to voter suppression laws – in an effort to get them registered. Our postcards encourage them and give them important info for navigating around the new laws.

Caring Team
The Parish Care Team is a group of folks who are willing to help our members and friends in times of special need. If you are willing to offer help from time to time to provide a meal, give a ride, make a call, help with a memorial service, make cookies, or send cards, please click the link to fill out the form.
Art & Aesthetics Team
The Art and Aesthetics Team was created to facilitate and improve the environment of UUCM to be visually and spiritually sustaining. If you are an artistic person or see the world in an artistic way, we would love to have you join us!